Former Waki Honjin Yanagiya Ryokan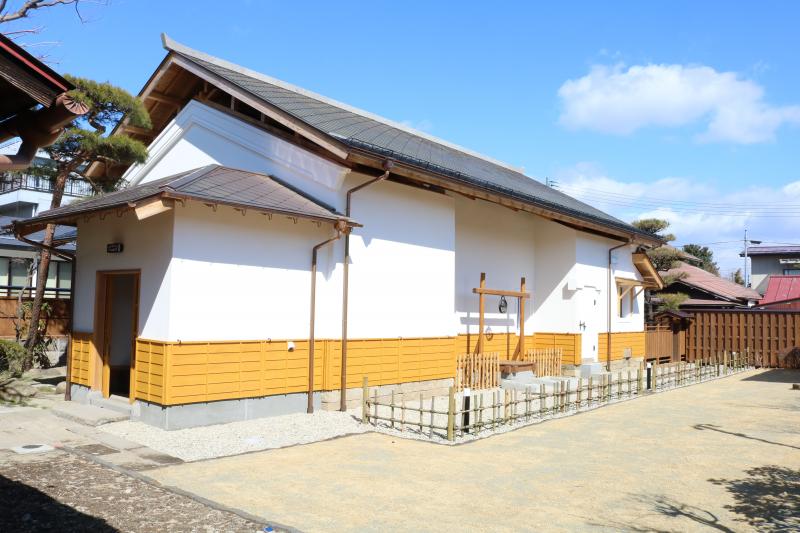 In the Edo period, the Honmachi district was the centerof Shirakawa post-station of the old Osyu Road and had more than 50 ryokans including Honjin and Waki Honjin. There used to be Waki Honjin Yanagiya Ryokan and in the back, you can find the original ryokan and zashikigura.In the map of Honmachi from the Edo period, the name of Niemon Yagishita was recorded as the head of Waki Honjin and the ryokan was operated for many generations.
The building facing the main road was built during the Meiji period (1868-1912) and served as a department store, which exemplified the Western-style architecture of the new era of cultural enlightenment. In the back, there is a zashikiguraconstructed during the Edo period. This zashikigura is special as it is the place where Emperor Meiji stayed on his visit to Shirakawa in 1881. The structure has three rooms and the one at the very back is called gyoku-za(throne) and has an alcove, a set of staggered shelves and a small study (tsuke-shoin) and is designed in the authentic shoin construct.
Designated as a Historically Scenic Landmark by Shirakawa City on July 21st, 2011.
Building information
Location
Motomachi
neighboring area
Era of construction
Edo/Meiji
Open to public
Opening Hours
Entrance allowed
DaysClosed
Friday to Sunday
Entrance
Free (Entrance may not be permitted when all the buildings are lent out to other groups)
Business at time of construction
Fermentation (miso and soy sauce)