About Historical Attraction Formations
The designation system of historical attraction formations protects the historical buildings and conveys them to future generations.
In Shirakawa City, as a result of an investigation that was carried out in 2010, 254 historic buildings were confirmed.
In order to protect and pass down the structures that are particularly important componentswhich form the history of Shirakawa, the historicalattraction formation was designated from 2011 onwards.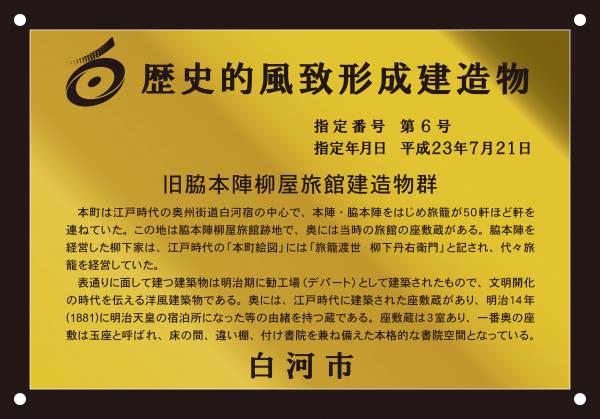 There are signs explaining origins and such on designated buildings.
Specified Policies
Registered tangible cultural property based on the Cultural Property Protection Act
Prefecture designated tangible cultural property based on the Fukushima Cultural Property Protection Regulations
City designated tangible cultural property based on the Shirakawa CityCultural Property Protection Regulations
Structures with significant landscapes and public facilities with significant landscapes Based on the Landscape Act
Other things which are necessary and important to maintain and improve historical attractions
Specified Criteria
Structures that form historical attractions
Structures with excellent designs and skills
Structures which are highly valued from a historical, rarity and locality point of view
Structures which have features of landscapes
Civil engineering structures of high value