The Historical Attraction of the Shirakawa Daruma and Shirakawa Daruma Market (marketplace gods)
In Shirakawa on February 11th, where severe cold weather still remains after the first day of spring, the city is surrounded by the bustling tradition of the "Shirakawa Daruma Market". In addition, when the "Market" approaches, there are signs of busy production fromboth the Watanabe and Sagawa Daruma factories from early morning to late at night.On the day of the "Market", the three towns, Nakamachi, Honcho and Tenjincho, become the setting of the "Market" as it has been since the Edo period.On both sides of the street for about 1.5km of the old Oshu Kaido that retains its key-shape, there are stalls selling the famous Shirakawa Daruma as well as other decorations as lucky charms.The whole town is filled with liveliness.
Shirakawa Daruma, which has long been popular as a lucky charm and a symbol of the city, and the Shirakawa Daruma Market that continues the tradition of "Rokusai Markets" which have supported people's daily lives in the scene of the old Oshu Kaido below the castle, signal springtime and form asuperb historical attraction.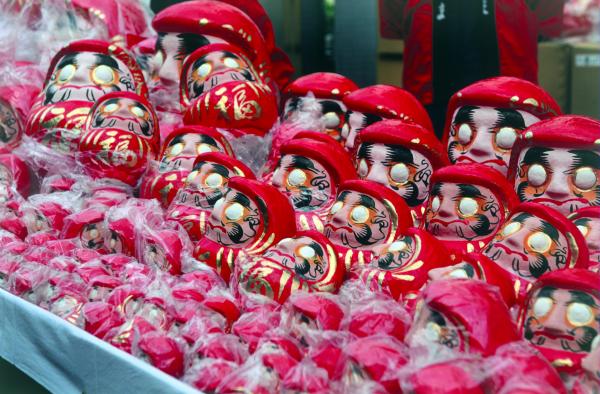 Storefront of the Shirakawa Daruma market

Crane Eyebrows
Pine Ume Hair along ear
Turtle Mustache
Pine Bamboo Beard
Sagawa Daruma Factory
Shirakawa Daruma General Main Office
From the introductory chapter of the Shirakawa history guide "Rekishira"