Saishoji Temple's Kannon Hall under the Stewardship of Kashima Shrine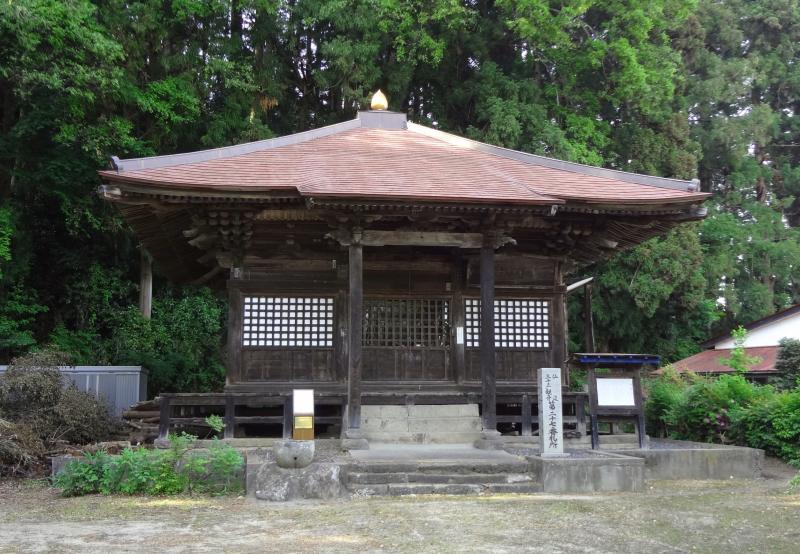 Saishoji Temple, the Betto temple of Kashima shrine is one of the jingu temples which represents an example of Buddhism-Shinto syncretism. A monk who is in charge of shrine and Buddhism duties is called Betto.Originally, SaishojiTemple belonged to the Shingon sect of Buddhism. Early in the Meiji period, the government implemented a policy of separating Buddhism from Shintoism and after that, Saishoji Temple fell under the jurisdiction of Ryuzoji Temple located in Shirakawa's Nengumachi district.
The remaining buildings of Saishoji Temple are but two: the Kannon Hall and the Miroku Hall. The Kannon Hall enshrines the Eleven-Faced Kannon and was built in 1711. Previously, the hall held a Standing Figure of the Eleven-Faced Kannon made of bronze in the Muromachi period (1336-1573) and an Eleven-Faced Kannon, both of which are now maintained by the Shirakawa Shukoen Museum. The 30-square-meter roof with gemstones on the top adopts the tented roof designand is covered in iron plating (originally thatched). The front of the hall roof is gabled in the traditional construct. Foundation stones are placed on the stone podiaand round wooden pillars support the structure.
Designated as a Historically Scenic Landmark by Shirakawa City on November 11th, 2011.
Building information
Location
Daikashima
neighboring area
neighboring area
Edo
Open to public
External view only